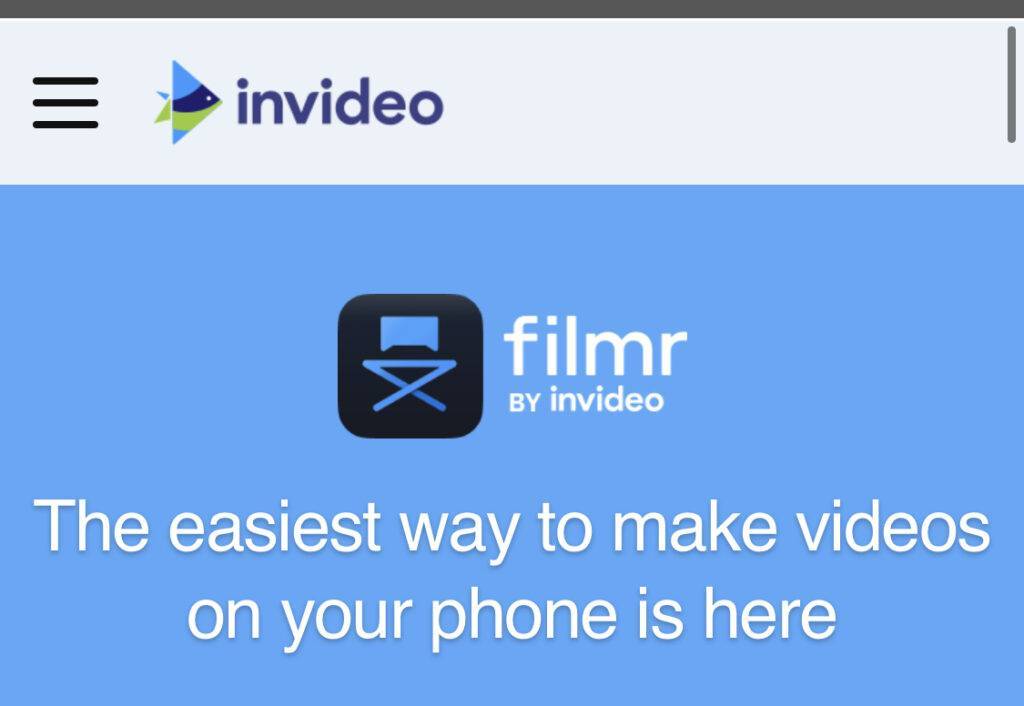 Invideo Review : Today I will write about how make 962$ from Invideo .
Have you ever used Canva and appreciated how it has helped non-designers create eye-catch images? If yes, then you're going to love InVideo without a doubt. It does the same with a focus on helping you create videos. In this InVideoreview, I'm going to cover:
What is InVideo, its features, and pricing
Should you go for it or not?
How I have made $962 and you can do the same
How to benefit from InVideo even if you aren't a freelancer
InVideo hosted on invideo.io is a recent entry into the video editing industry. And it helps you create different eye-catching videos with templates, just like you create images on Canva.
InVideo also helps you create your blog posts and articles into video format. And I believe it's a wonderful thing, especially if you're a blogger who loves the idea of repurposing his or her content. And what's the unique thing about InVideo?
"Literally anybody can create videos with little to no technical background"
Yes, that's right. Even though I run a fairly successful YouTube channel. And I edit all of my videos myself. But I am not an expert in creating video content. And yet I've created a lot of videos using InVideo.
So if I can do it, you can surely do it. Don't believe me? Let me walk you through the process of creating videos with InVideo.
InVideo Review: How It Works
InVideo's homepage explains how video creation works on the platform. Why? Because the team knows that it's the top feature of the platform. So what you need to do is 'Sign Up' for the InVideo account and get started for free.
Start with a template that resonates well with your brand story or idea. After that, use InVideo's free stock music, images, and videos. Adjust colors, timings, fonts, and whatnot. You can also start with a blank template so that you can add elements of your choice.
Export your video project after you're done. InVideo also facilitates you to share it on social media within the platform.
But now let's get to know a little more about the platform's features you can enjoy. .
InVideo Features: What Makes It Unique
InVideo offers a lot of features for non-pro video creators like you and me. Let's have a look at them now.
Audio tools
Text overlay
Media library
Visual effects
Speed merge
Reseller rights
Shareable link
HD Resolution
Variety of Fonts
Tons of stickers
Speed adjustment
Font quote templates
Ready-made templates
Split and merge videos
Blog post/article to video
Unlimited character length
Video Making & Stabilization
Shapes, text boxes and more.
Ability to upload your photos and videos
Enhancements like collage, masks, and more
The list goes on. And you get all these features with a 60-day money back guarantee and support. But you may think that it must be extremely expensive then, right? Wrong. Let me walk you through the pricing structure of InVideo now.
InVideo Pricing
InVideo is based on a freemium business model. And you can start using it for nothing. However it comes with a few limitations like having an InVideowatermark and more.
InVideo Free Plan
Let's get to know what you can get for free.
InVideo Watermark
4500+ Video Templates
3M+ Standard Media Library
Automated Text to Speech
15min video duration per video
And I believe it's way more than you can expect for free. And if you're just starting out, I recommend going for free initially and upgrading later. Other plans include 'Business' and 'Unlimited'. Let's have a look at them now.
InVideo Business Plan
Business plan comes for $15/month if you pay for at-least a year in advance. And it's $30/month if you don't want to commit for an entire year. You'll enjoy ample resources offered by InVideo without a doubt. And you can export 60 videos per month.
I recommend going for a 'Business' plan only if you have scaled up your video creation business. And if it's worth your investment, pay for a year and enjoy a 50% discount. The information is correct at the time of writing this post. You should however go to the pricing page of InVideo for the confirmation.
InVideo Unlimited plan
InVideo's 'Unlimited' plan is truly unlimited. And you can export unlimited videos, enjoy 120 iStock and 1 million premium media resources. The 'Unlimited' plan comes at $30/month if you pay for a year. And comes at $60/month if you don't want to commit for a year.
And again, I believe you should buy the 'Unlimited' plan for an entire year to enjoy the 50% discount. You go for it only if it's worth it, right? And that brings me to review the platform.
InVideo Review: Is It Worth Your Time?
You must already know by now that I love InVideo so I'll review it positively. But it has its downsides as well. So, I'll talk about the pros but cons as well. Sounds fair?
InVideo Pros
Everything is editable
Detailed tutorials on YouTube channel and blog
Tons of stickers, text effects, filters, animations, and more.
Highlight the words to search for the relevant content in video
Ability to sell and distribute videos freely because you own them
Access to a library of millions of stock video clips, images and music.
There are a lot of benefits of using InVideo to create your videos without a doubt. But that brings us to the cons now.
InVideo Cons
These are not essentially the disadvantages of using the InVideo platform. But the team may improve on these points:
Limit of only 50 scenes (you'll find the repetition after a time)
Previewing and exporting takes ages
Losing of layout choices if you change your mind
All these cons aren't deal breakers but painful. And you'll still find InVideo to be an awesome video editing web app without a doubt.
InVideo Review: My Experience
As an internet entrepreneur, I am always on a hunt for new tools to solve my problems quickly. And I found InVideo to be an awesome tool to create attractive videos. The platform has helped me in a lot of ways from creating ads to Instagram posts.
Let me walk you through the quick process of how you can do the same. When you get started on InVideo, you've two options:
Convert Article to Video
Explore Pre-Made Templates
Go for the second option if you want to create ads or Instagram posts. Or you can choose the first option and convert articles into videos seamlessly. Copy your blog post and paste it into InVideo's dashboard. Add your media files as well.
How to Make $962 or More with InVideo
InVideo helps you create different types of videos designed for a variety of platforms. These platforms include:
And to make your job easier, you can even choose from these types of videos:
Offers / coupon
Brand
Product
Ads
Presentations
Invitations
Motivational quotes
Webinar promos
Bite-sized ads
Video testimonials
Snackable videos
Listicles and more
Creating videos based on all these categories is seamless on InVideo without a doubt. I offered freelance services for creating video ads, Instagram posts, and YouTube intros and outros. And this way, I have made around $962. Let me tell you how you can make even more.
InVideo Review: Ideas for Freelance Services
There are a lot of services you can offer by benefiting from InVideo. Let me share three ideas for services that I have tried.
YouTube Intros & Outros
YouTube is the world's second biggest search engine in the world and the most popular video platform. You'll find every type of video maker there. If you want to learn about digital marketing and online businesses, subscribe to my YouTube channel.
Do you want to explore science? Follow Science Time on YouTube. And do you want to get updated for the news? Search for your favorite news channel and you must find it on the platform.
With that said, you can imagine the number of potential clients for you. Pitch them for creating intros and outros for their YouTube videos. Create a Fiver Gig for that. And promote your gigs or services like a pro.
Video Ads
There are millions of entrepreneurs rolling every now and then. And honestly, every one of them needs to run video ads because they work brilliantly.
Instagram Posts
Lots of influencers are on Instagram. And all of them need to post valuable content on Instagram. Videos work like gold on Instagram nowadays. Let the Instagrammers know that you can help create awesome videos instantly.
How to Promote Your InVideo Services
So you have created a wonderful portfolio of videos using InVideo. Now what? You cannot just sit and expect dollars rolling into your bank account. You need to spread the word about your freelance services.
Here's you can do it:
Create some video ads on InVideo
Share them as your sample work
And pitch your potential clients
Post these services on your website if you have any.
And there are a lot of things you can do to create and promote your freelance services. Because it's not just the InVideo review, so let me give you an idea to get motivation for your business.
Go to InVideo's pricing plan, choose 'Free' subscription. And take it as a game to pass the level from 'Free' to 'Unlimited'. It will keep you motivated for sure.
Implement these actionable tips on freelancing if you're new to the industry.
You Aren't a Freelancer?
Or you don't want to offer freelance services. InVideo can still be helpful for you if you run any online business. Don't offer services, create videos for amping up your business. For example, if you have an e-commerce store, you could create product videos.
And run video ads on social media as well. Videos are gaining popularity. And if you run a blog on any niche, you could create related videos as well. All you need is to enter your blog post into the InVideo and boom!
InVideo Review: Final Thoughts
There's no excuse for not making money online today because the opportunities are countless. From writing content online to making videos with InVideo, you can earn full-time income. InVideo is such a powerful platform to create videos with no technical background.
Here's a quick summary of what you can do:
Start playing with InVideo for free
Offer making YouTube intros, video ads, and more
Promote your freelance gigs
Scale your business slowly
If You like the Articles the please Writing comment down .