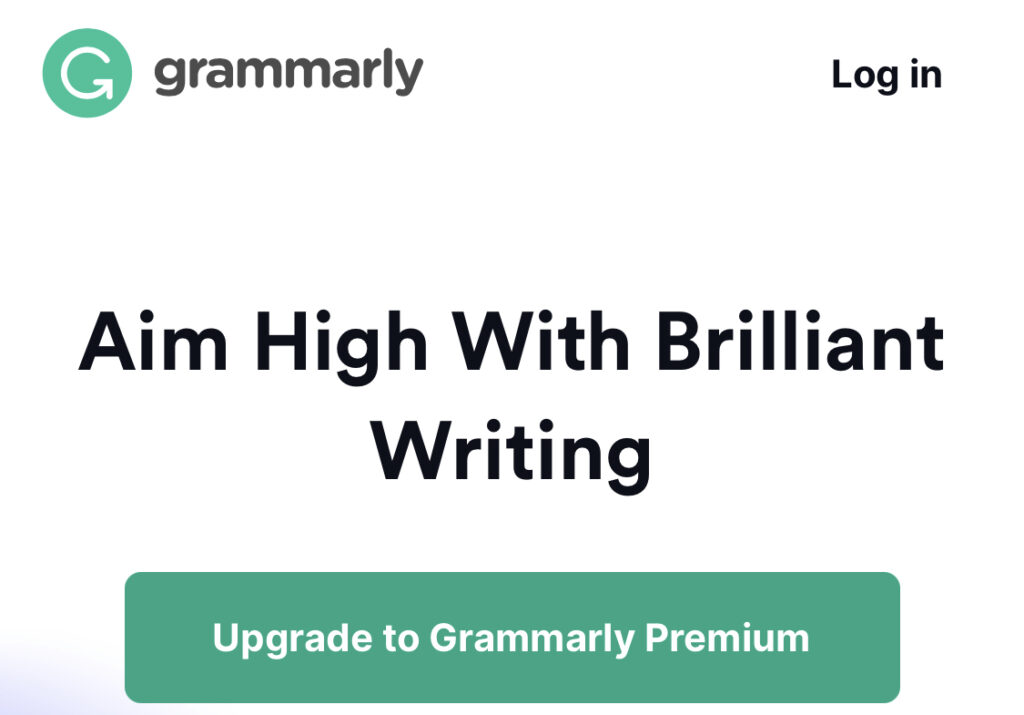 So you have recently heard about Grammarly and want to give it a shot. But you want to make sure if you must use the software as an internet marketer. This Grammarly review for digital marketers will help you understand if it's worth it for your marketing efforts.
Grammarly isn't only for freelance content writers to proofread their work. However, I believe you must use it if you're into the online business world. This post will let you know all the incredible features valuable for digital marketers.
And it will answer a straightforward question: Should content marketers use Grammarly? But before that, let me introduce you to Grammarly right now. 
What is Grammarly
Grammarly is a brilliant cloud-based writing assistant to help you review the spellings, grammar, engagement, and delivery mistakes in your content. It uses artificial intelligence to recognize and nullify errors on your behalf. 
The software is based on a freemium business model, which means you can use its free and premium versions. What I like about Grammarly is that it learns your writing style and gives edit suggestions accordingly. 
Grammarly Review for Digital Marketers: Chrome Extension
Grammarly's Chrome extension helps you benefit from the AI across different mediums, including email, social media, WordPress, and more. All you need is to go to grammarly.com and click the 'Add to Chrome' button to add Grammarly to your Chrome browser. 
After that, you'll see a Grammarly icon across different platforms. You can use it to turn it off or on. It helps you correct your content while you're writing. That saves you tons of time without a doubt. And you never need to leave your writing space to proofread your content. 
Grammarly Review for Digital Marketers: PLANS
Grammarly offers three plans. The free plan helps you with basic writing suggestions, Premium offers clarity improvements, and Business gives functionality to an entire team. Let's discuss 'Free' and 'Premium' versions in detail now. 
Grammarly Free
The free version of Grammarly is enough for budding digital marketers. Go for it when you only need a spelling and punctuation check along with basic grammar. It also gives you suggestions to concise your content for boosted readability. 
Grammarly's free version is powerful enough to solve most of your content mistakes, honestly. It detects the overall tone of your writing as well. The free version is for individual marketers who are just starting. 
Grammarly Premium
The Premium version of Grammarly includes everything available in the free version. So you can check your grammar, punctuation, and spelling. But wait, there's more. Grammarly Premium helps you rewrite your sentences for improved clarity and deliverability. 
The paid version of Grammarly is way more powerful than the free version. It adjusts the tone, fluency, and formality level accordingly. You can also detect plagiarism, and that's helpful if you're a digital marketer. It also offers word choice so you can create diversity in your content. 
Let's have a look at some of the Premium features:
Grammar and spelling check
Consistency in spellings and punctuation
Fluency across your content
Conciseness
Consistent formatting
Sentences rewriting
Valuable vocabulary
Sentence variety
Consistent and confident writing
Formality levels
Inclusive language suggestions
And more. Grammarly Premium costs you $12 per month, which is worth the price. Let's talk about the business version now. 
Grammarly Business
The Business version of Grammarly is perfectly made for digital marketers. Why? It's because it has all the Premium functions along with boosted functionality for online business marketers and founders. These functions include
:
Style guide
Snippets
Analytics dashboard
Priority email support
Account roles and permissions
Brand tone
And more. You can add 3 to 149 users to the Grammarly Business account so that all your team members use it seamlessly. Pricing for the Business is $12.5 per member per month. So it means if you've 3 members, you'll be paying $37.5 every month.
Grammarly Review for Digital Marketers
Millions of freelance writers, university students, and corporations use Grammarly to proofread their content. Digital marketers also use the software to make sure the content is grammatically correct, plagiarism-free, and reader-friendly. 
For example, one of my freelance writers had a typo in 'Sign Up,' and his version was 'Sing Up.' If you're a digital marketer, you must know the importance of a signup button. I would have missed the typo if I hadn't used Grammarly.
The software doesn't take long to notify you about tons of such mistakes. It saves you an incredible amount of money and time as well. With Grammarly, you make sure all the content delivered to you or created by you is incredible with almost no mistakes whatsoever. 
Grammarly has helped thousands of digital content marketers to showcase their work and outperform their competitors. Apart from tons of features, I've already mentioned in the 'Plans' section, let me give you a few marketing tips for using Grammarly now. 
Grammarly's blog bakes out some of the best content to improve your content marketing efforts without a doubt. The editors are constantly looking for help. For example, a page from Grammarly appears when you search for 'weather or whether' on Google. 
The Staff Picks is specifically geared towards helping you out as a digital marketer more rigorously. From the overall lifestyle to writing tips to company news, it has it all. Let me share a post that has recently caught my eyes as a digital marketer,
This post can be super helpful for those content marketers who want to work in public places. It has fantastic tips like 'bring headphones' and 'don't move furniture around unreasonably.' Furthermore, if you click on the 'Writing' section on the top bar, you will find
Writing Tips
Grammar
Trends
Inspiration
What else do you want as an online marketer? These sections of Grammarly's blog are gold for digital marketers like you. And you can read the blog even if you don't use Grammarly at all. But it would certainly help if you would use the software. 
2. Benefit from Content Cluster Strategy
As a digital marketer, you always focus on getting more and more traffic. But, you also make sure everything runs on solid grounds. That's why you create awesome content clusters and interlink them effectively. The good news is that Grammarly helps you with that.
3. Create Your Brand Image Seamlessly
Grammarly's free browser extension helps you edit your pitching, messages, and comments on social media as well. It also seamlessly works on Gmail, Linked In, and WordPress. So you, as a digital marketer, make sure you are fast and correct as well.
Grammarly helps you with correcting hundreds of mistakes. And it also understands your tone and writing style. So next time when you write something, Grammarly makes sure you maintain your brand image.
4. Improve Your Content to Boost Your Marketing ROI
With Grammarly, you can correct tons of mistakes, expand your vocabulary, and publish more readable content. It also makes sure you publish unique content every time by scanning over 9 billion web pages worldwide. 
And if you're a digital marketer, you already know how important all these tasks are. You create and deal with digital content all the time. And if the content is sound enough, you'll rock it up. Grammarly automates the process of improving your content to boost your marketing ROI. 
Grammarly Review for Digital Marketers: Should You Use It?
In Conclusion, Grammarly does its job to improve your writing brilliantly. Should digital marketers use Grammarly? Absolutely, yes. I don't believe there's any reason not to use the software as an online marketer. 
As a digital marketer, all your marketing efforts depend on your content. If that is good enough and in line with your brand's vision, you're ready to rock and roll. Go with the free version and upgrade to Grammarly Premium when you need it. 
My Grammarly review for digital marketers is favorable because of its valuable features. And the Grammarly team is constantly improving its software. However, even if it needs improvements in some areas, it is still worth trying only for $12 per month. Are you going to use Grammarly from now on? Let me know in the comments below.