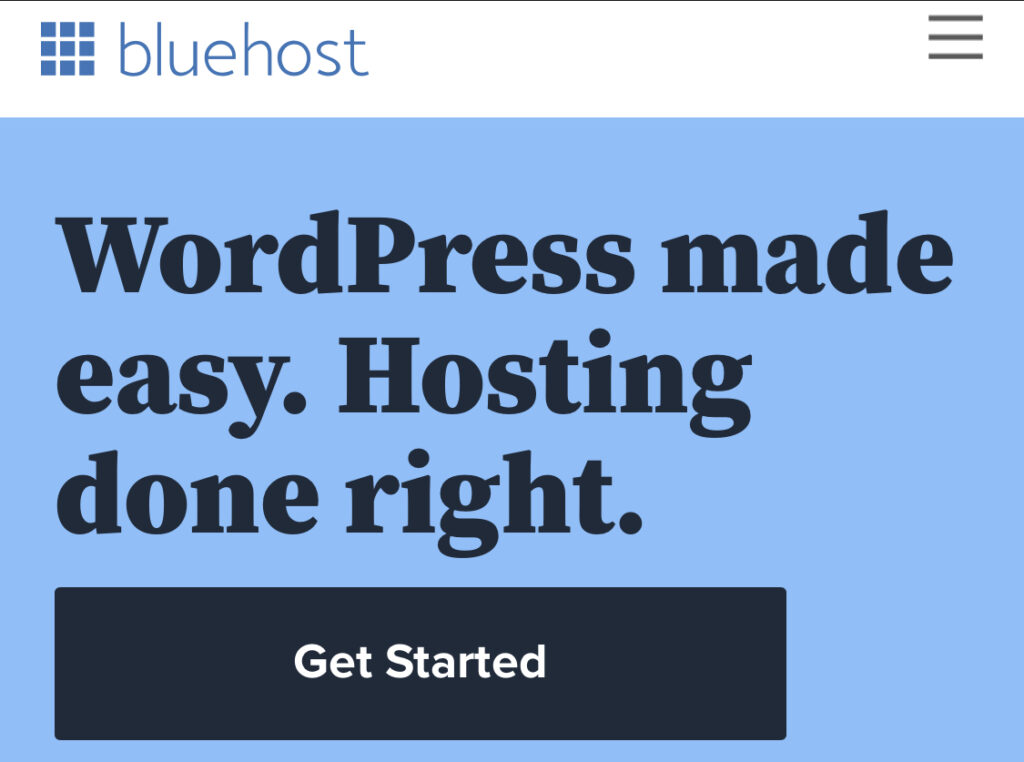 Do you want to earn Bluehost affiliate commissions without web hosting and domain? You can start making bucks even if you don't have a large audience. Read on if that's exciting for you.
In this post, I will reveal how you can benefit from Quora and Medium to earn referral money. First, you'll have an introduction to the affiliate program and plans by Bluehost. Second, you'll know why I've chosen Bluehost to earn referral money.
By the end of this post, you'll know how you can promote affiliate links on Medium and drive traffic from Quora. Sounds great? Let's get geared right now!
Bluehost Affiliate Program: Introduction
Bluehost pays $65 for every sale referred by you as an affiliate. It's incredible considering the client may only be spending $8 per month and getting the first month for free. Therefore, a simple close of $3 ($3 underlying) pays $65. Huh? How could that be?
Well, it is about the customer's lifetime value. Bluehost knows that hosting customers offer a lot more value than just $65. Generally, customers don't change the hosting frequently. And many of them upgrade their plans.
Even as an affiliate, this is extraordinary. And what about some expensive plans? They should bring in a lot of affiliate commissions, right? Well, not really. You get the same affiliate commissions for all the plans.
It may be better to join an affiliate hosting program if you have an audience that is more inclined to buy a $100+ plan instead of a shared hosting plan. Otherwise, Bluehost offers an excellent opportunity for you to make big bucks per sale.
Bluehost Plans
With six different types of hosting, BlueHost enables your readers to choose a plan according to their needs. Check out these prices for their cheapest starter and renewal plans:
Shared hosting: $2.95 per month, renews at $8.99 per month.
WooCommerce hosting: $15.95 per month, renews at $24.95 per month
VPS hosting: $18.99 per month, renews at $29.99 per month
Managed WordPress hosting: $9.95 per month, renews at $29.99 per month.
Dedicated hosting: $79.99 per month, renews at $119.99 per month.
Bluehost offers 30-day money-back guarantees and discounts for new customers. And that brings you an opportunity. Bluehost's promotional prices can save your audience up to 64% per month!
Why I've Chosen Bluehost Affiliate Program
Bluehost is the most popular web hosting company in the world, used by over 2 million sites. And WordPress officially recommends it to its users. So the program must be promising.
This section is like an honest Bluehost affiliate review. Let's get started!
The Program is Beginner-Friendly
So first things first, I recommend you try the affiliate program by Bluehost because it approves you easily. You don't need to meet a strict set of policies that you usually do with other affiliate programs.
And that makes it friendly to you as a beginner. Everyone can become a Bluehost affiliate now.
Wide Range of Hosting Services
The second reason to promote Bluehost to earn commissions is the range of hosting services at reasonable pricing. And the services include the latest cPanel, top-notch after-services, and detailed analytics tools. What else do you need in hosting?
No Financial Investment or Risk Involved
You don't need to pay any fee to get into the affiliate program by Bluehost. The minimum investment is hosting, domain, and content. And with my method, you don't even need a domain or hosting. And you will still be able to promote Bluehost and make bucks.
Substantial Affiliate Commissions
I must highlight that Bluehost offers substantial commissions for its affiliates. You can earn from $65 to $130 per sale. And that's phenomenally huge! The more you make sales, the more commissions you'll earn. It's that simple!
I've covered the key reasons for getting started with Bluehost's affiliate program, but there are many more. Let's get to know how you can earn affiliate commissions without any hosting or domain.
How to Earn Bluehost Affiliate Commission Without Any Hosting
If you have a website with substantial traffic, you would like to promote affiliate links there. And everybody has talked about this in the past. Do you need hosting? Jump on Medium. Want traffic to Medium? Benefit from Quora. Let me explain it.
Create the Relevant Content on Medium
The Medium allows you to publish your content with affiliate links. And that's awesome news. But I don't recommend you to overdo it. The algorithm boosts the popularity of high-quality content across the internet. That's why always provide your readers with the value they need.
Bluehost is a wonderful affiliate program, and Medium is the platform for you to publish your content. So start with creating content around Bluehost. Don't just write reviews and the typical 'best' hosting services posts. Rather offer the maximum value. For example, create
Tutorials on setting up your readers' sites with Bluehost
How-to articles based on Bluehost
I hope you got it.
Create Quality Content
Can you rank well on Medium if your content meets the quality standard? Ask such questions and see if your post meets the quality Medium requires. The content you publish on Medium needs to be insightful and honest.
Your readers may not appreciate it if you aggressively promote your affiliate links across your content. To make money on Medium, you need to carefully create and publish the content with just a few affiliate links on it.
Come Up With Awesome Headlines
Though Medium allows for vague and creative headlines, the majority of highly ranked content has a pretty straightforward title. Your article should only require a quick read for the audience to understand. Add numbers because it brings in genuineness and curiosity.
After you create affiliate content on Medium, the platform will work for your success. But boosting with Quora would help you achieve your goals fast.
Repurpose the Content for Quora
Getting traffic from Quora to your Medium content about Bluehost will help boost your affiliate earnings. It's not just a question and answer site but a full-fledged smart forum. This time, you don't even need to create content.
All you need is to repurpose your Medium content for Quora. Getting referral traffic back to your Medium is free. Create a 'Space' about hosting and start writing content about it. Don't include your affiliate links in Quora because the platform doesn't allow it.
How can you make money from the Bluehost affiliate program, then? Well, repurpose the long-form articles to short ones. And answer questions and create short posts in Space relevant to your niche. And if you do it right, you'll attract substantial traffic to your affiliate content.
For example, I have got over 453K content views on Quora as of now. And that has considerable potential without a doubt. And it's not just about affiliate commissions; you can also promote your ebooks, social media profiles, online courses, and more.
Let me share a few tips to get traction on Quora fast.
Create different types of content, including videos and images
Provide consistent value to your readers on the platform
Take inspiration from never-ending streams of content ideas (related content)
Edit your credentials like a pro (Show your expertise or hobbies)
Do the content research inside the Quora to avoid duplicate content
Answer questions related to your niche (hosting, in this case)
Don't be pushy – use natural language
Run Quora ads for laser targeting your audience seamlessly
That's all for now. Let me summarize the entire process for you now.
Conclusion: Make Money With Bluehost Affiliate Using Quora & Medium
Bluehost affiliate program is a terrific choice if you're looking for a program with no strict approval policies. All you need is to sign up and start promoting affiliate links. But everyone is doing it, right? Exactly.
You may want to start making affiliate commissions without your website. Utilize Medium if that is the case. It's an excellent platform to publish your affiliate content. But you should not be aggressive in sharing your links.
Here's a summary of what you need to do:
1. Sign up for the Bluehost affiliate program
2. Create content related to Bluehost
3. Publish the content on Medium
4. Repurpose it for Quora
5. Add links back to your Medium content
And make money for promoting the world's most popular hosting service. Find out other ways to drive traffic to your affiliate links here. Let me know if you like this post in the comments below. And share it with your friends and family member.